I've been having something of a digital spring clean. Moving web hosts was long overdue but while we're at it why not clean out the whole stack?
So my old domain registrar is gone. Mainly for being evil but more specifically for sending me renewal bills when I tried to cancel a domain. What is it with registrars? Every site looks like a used car showroom. Every link is another up-sell. They are I suppose, digital estate agents but they seem to have uniformly absorbed all the bad traits of their meatspace genealogy.
But surely, out there, is a non-evil domain registrar, right? Just one. That's all I wanted. Then I remembered Domainr. If you've not tried it, I'd urge you to take it for a spin. They have a simple and unique search engine for domains. It's brilliant but it turns out they're only a broker, not a registrar.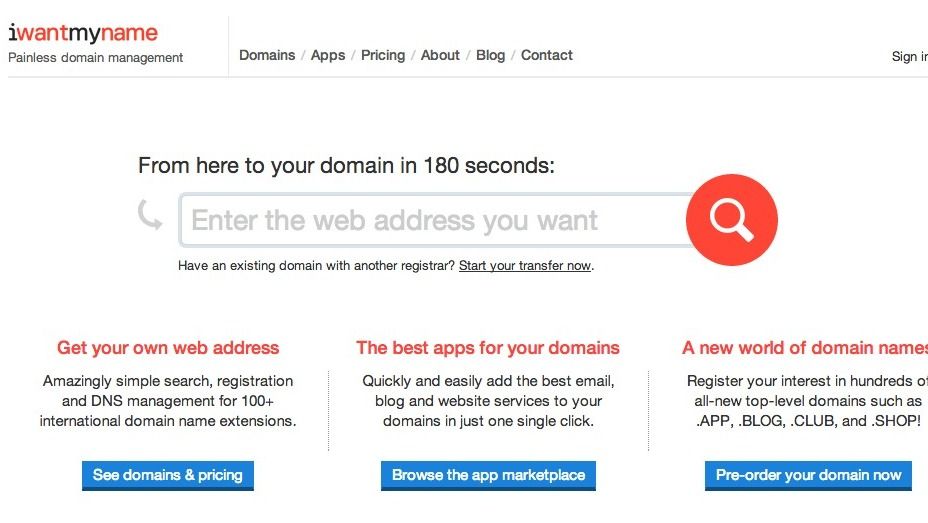 But if you dig deeper you'll find who they recommend and that'll take you to a New Zealand based registrar called iwantmyname.com. They're my new guys. So far I've moved 11 domains over to them and all without a hitch. They have a clean, sensible interface, they don't screw you on moving charges and they don't charge extra for something like WHOIS privacy. They are an absolute joy.
Lastly, I've moved my mail hosting to pobox.com. Early days with that one but I'll let you know how it goes.