Churches and alehouses are ubiquitous in Britain. The names change from time to time but many of the sites have been occupied for centuries. Back before the advent of GPS and smartphone mapping it was fairly common to provide directions as a list of common landmarks. I can still remember my Geography teacher instructing his class (of ten years olds) how to navigate across town by every pub and alehouse en-route. It was much more fun than oxbow lakes.
After ten years living and working in London I got to know the alehouses rather well, and with the festive season well and truly upon us I thought it might be fun to have a virtual temporal pub crawl. This list is by no means exhaustive but here are a few London pubs with a temporal connection.
This was a regular haunt of mine when I used to commute in from Greenwich. This wonderful pub is unusual in that it is split across two locations, either side of an alleyway. On most days visitors spill out of both buildings and into the alley in-between. The pub is named after the wonderfully monikered Admiral of the Fleet, Sir Cloudesley Shovell. He lost his life in 1707, along with 1500 other sailors, when his fleet hit rocks off the isles of Scilly. The cause of the disaster was due to a mis-calculation of the fleet's location. In order to prevent this from happening again the British government formed the Board of Longitude which in turn inspired clockmaker John Harrison to create his award winning marine chronometer, H4.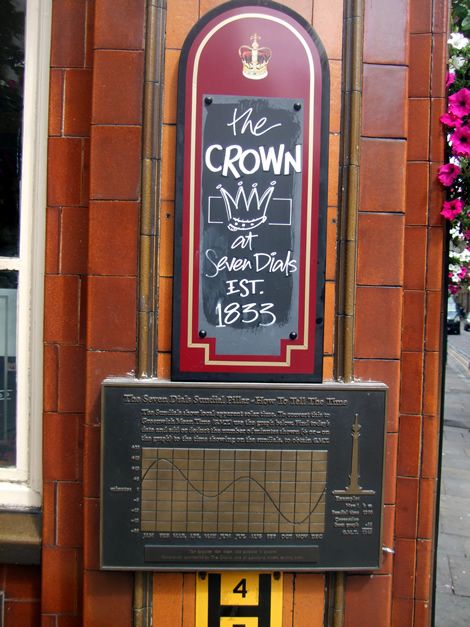 This pub is located on the Seven Dials roundabout in Covent Garden. It was the closest pub to my old agency so we would often end up there after work. Next to the doorway, on the wall of the pub, is a plaque with a waveform and inscription showing the Equation of Time. You'll find an identical plaque next to Nero's coffee shop on the other side of the roundabout. In the middle of the roundabout is a tall monument capped with six sundials... go figure.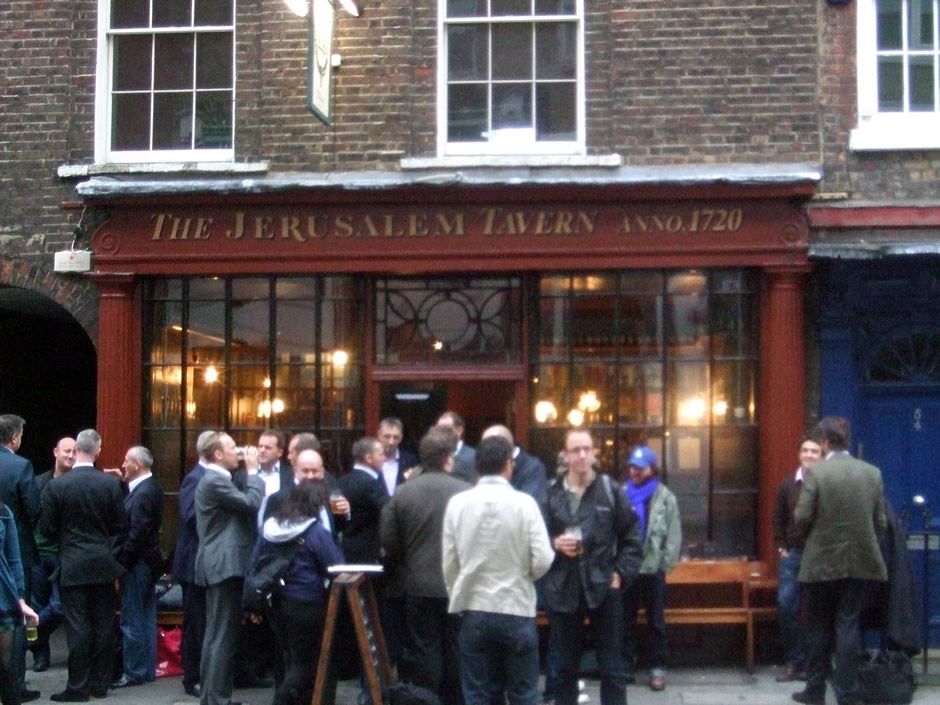 Now this is a cracking alehouse. In the 18th century Clerkenwell was home to watchmaking in London. At that time, the site of what is now The Jerusalem Tavern was a clockmakers shop. When I was working at Pogo we'd often end up here at the end of the night. It's a little tricky to find but if you do manage to visit then take a few minutes to pop round the corner to St John's square where you can visit the marvellous Museum of the Order of the Knights of St John.
This is the only pub on my list that I haven't managed to get to but I can't really miss it out. The pub is named in honour of local resident William Willett, a London builder and the principal UK proponent of Daylight Saving Time.
There are lots of great pubs in Greenwich (tip: you'll find the best ones are along Royal Hill) but the Trafalgar is probably the most famous. Built in 1837 on the site of the Old George Inn, it sits on the river alongside the Old Royal Naval College. The writers William Thackeray and Charles Dickens were frequent visitors. It can get very busy but is worth visiting to soak up some maritime history.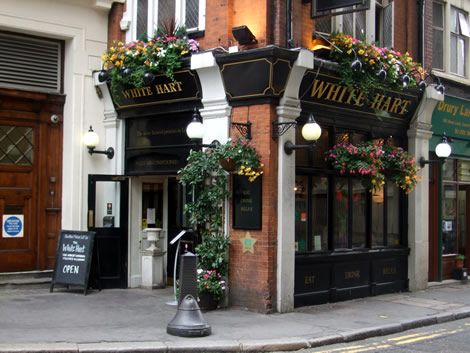 The White Hart bills itself as the 'oldest licensed premises in London'. This may or may not be true (the oldest pub in London is a hotly debated topic) but inside it looks like any modern pub. It's present incarnation is far less exciting than it's colourful history - highwayman, Dick Turpin, is said to have been a regular. It's claim is apparently derived form from the (nearby) Old Bailey archives which show it was first licensed back in 1216.
This was my local when I lived in Deptford. I don't know if it has a temporal connection (most of Deptford does) but I'm listing it because it's the best pub in south east London. Don't just take my word for it, no less an authority than CAMRA have honoured it with the accolade several times. Built next to the Royal Dockyards, it serviced the drinking requirements of local workers. The pub makes an appearance in ''Homeward bound', a sea shanty from 1870's.
And now we haul to the Dog and Bell
Where there's good liquor for to sell.
ln comes old Archer with a smile,
Saying: "Drink, my lads, it's worth your while."
For I see you are homeward bound,
I see you are homeward bound.
It's not easy to find, but while you're getting lost I'd recommend visiting the nearby St. Nicholas churchyard. Extra points if you can find the grave marker for the playwright Christopher Marlowe (1564-1593).