Reasons to be Creative is a 3-track, 3-day conference held annually in Brighton, in the UK. I say "conference" but, as was noted this year, the vibe is more that of a festival. It's a celebration of creativity in all it's forms. Speakers are drawn from a wide range of professions – illustrators and animators sit side by side with programmers and hardware hackers. Creativity is welcome, whatever the medium.
Reasons turned four this year. It's predecessor, Flash on the Beach, ran for six years. I've been fortunate enough to attend all of these; first as a journalist then as an attendee. It struck me that a 10th anniversary was happening and I wanted to do something. I didn't know what really, but more of that later.
Three tracks of diverse content gives you plenty of choice but even then, speakers you want to see will inevitably clash. We had great sessions on illustration, film production, activism, web technologies, business, dataviz, gaming and much more. And of course the crazy juggernaut that is the Elevator Pitch. I won't go into the individual sessions, but I would like to shine a light on the other half of the Reasons experience - the bit that's not on your ticket.
This is a very social event. The speakers and attendees spend a lot of time together, usually in one of the many pubs and restaurants around the venue. Not all conferences are like this and I think there a number of factors that combine to make it happen.
Conferences inevitably inherit the personality of their organisers and John Davey is a very sociable guy. You're encouraged to meet people and if you're here, you're a friend.
Reasons is in Brighton and Brighton knows how to party. If you want to meet a speaker, you'll more than likely find them in the Waggon and Horses or the MyHotel bar.
Reasons is inclusive by design. It's not solely a tech conference for techies, or a design conference for designers. It encourages attendees from all disciplines to meet because it is big enough to be all of these things.
Reasons is a three day conference and this, I think, is the most important thing. Attendees have nowhere else to go. No-one is rushing to get home or get to a flight. Everyone is relaxed. Unless you're a speaker on Day 3.
So people come back year after year. It has become as much of a social event as it is a great conference. A lot of previous speakers come back just to hang out. I met at least five this year.
So anyway, getting back to the anniversary thing. One of the great joys of this event is catching up with people I only get to see once a year. Matt and I did the Elevator Pitch the same year and have become drinking buddies. John had a very nasty crash earlier in the year, so we threw around the idea of getting him a crash helmet. I wanted to put "10 years on the beach" on it. Matt suggested "Reasons to be Careful". Brilliant. I love being around creative people.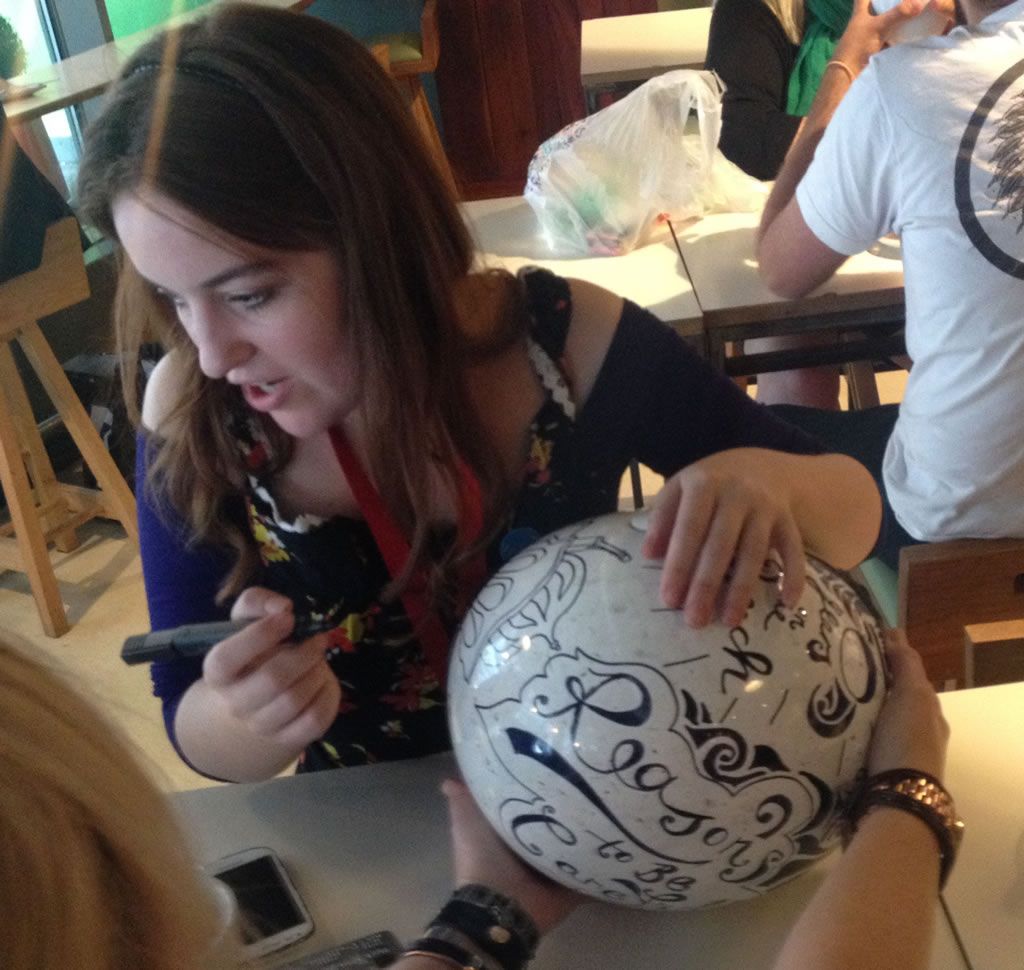 One of the most surreal things about the Reasons environment is if you need a world class illustrator to decorate your helmet, you only have to ask. We got ourselves a helmet (big thanks Oli) and drafted in Lizzie Mary Cullen to illustrate it - thanks Lizzie. A bit of last minute conspiring with the conference tech team and we were all set - John got his helmet during the wrap up session.
It was great to say thank you. This event has so many amazing memories associated with it. So John, look after yourself so we can do this all again in another 10 years.