Project info: WikiTimeScale
Technology: HTML, PHP, SQL
License: Open source, GNU GPL
I love this project. It's open source, it's rammed full of features and there is a ton of data in there. Okay, the design could use a little polish but the real strength of this project lies in its features. I like the fact you can globally set the date format (US, European or International) and that five major calendar systems are supported (Christian, Chinese, Jewish, Islamic and Roman).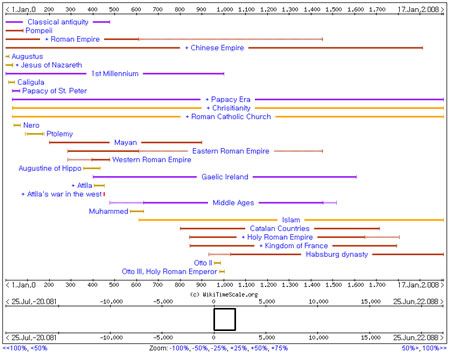 All this is the work of one guy; Markus Szumovski of Austria. Although there hasn't been much recent activity, it seems he has also done some great work towards solving the problem of getting data into the system. A post in the forums claims he has written a scraper/spider that can pull temporal data out of Wikipedia. Getting good semantic data into the system is going to be one of the big challenges of this project and lateral solutions like this could be the answer