The remarkably named Sir Cloudesley Shovell was by the time of his death in 1707, Admiral of the British Fleet. His ship HMS Association, went down off the Scilly Isles on the 22nd October (Julian calendar) and all hands where lost. Three more ships struck the rocks that night and over 1500 sailors died in what became one of the worst maritime disasters in British Naval history.
It was a seemingly avoidable event. The fleet was returning to England and was in home waters. The cause of the disaster was believed to be poor navigation. So in 1714 the British government passed the Longitude Act to encourage solutions to the problem of finding longitude at sea. It was this act and it's associated prize that drove John Harrison to produce his series of innovate sea clocks and chronometers.
Getting back to Cloudesley Shovell, and in case you're wondering, his first name comes from the surname of his maternal grandmother Lucy Cloudisley. If his name rings a bell it could be because I've mentioned him before - there's a rather good pub named after him in Charing Cross in London.
This summer I went to the Scilly Isles and it struck me before I went that there may still be a few traces of the Admiral and the disaster, 310 years on. And sure enough I found a few. The Karma resort on St Martin's has a restaurant named after him and Ales of Scilly brew a rather nice IPA called Association.
But I found more tangible evidence in the Valhalla Museum in Tresco Abbey Gardens, where they have a cannon salvaged from HMS Association. The main collection at Valhalla is of mid to late 19th century ship figureheads - it's worth a look. The National Maritime Museum have a similar collection on view at the Cutty Sark.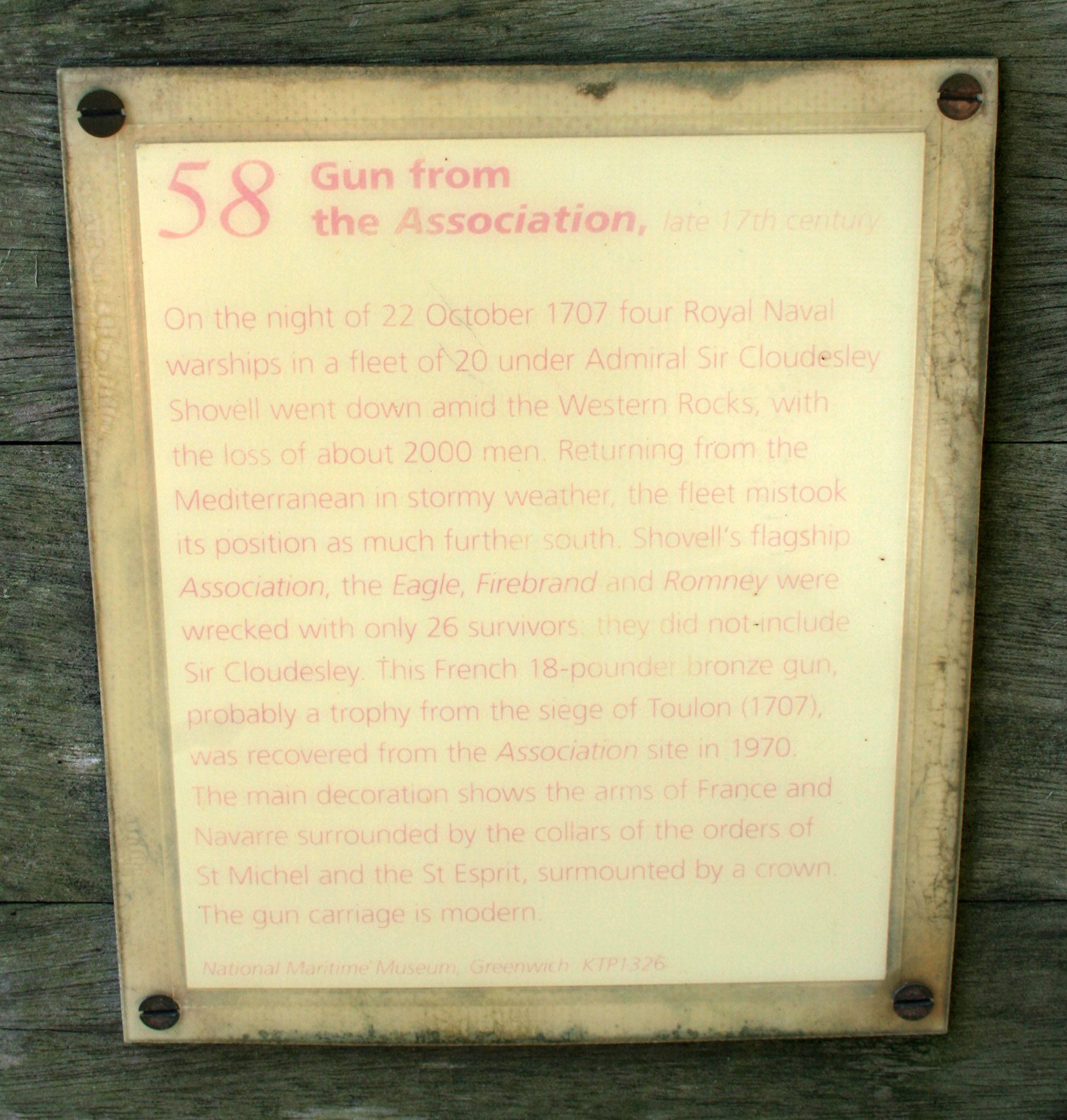 The most poignant find was on Porthellick Cove on St. Mary's. It was here that the Admiral's body washed ashore, some seven miles from where the Association broke up. There is a stone marker and plaque on the beach path that marks the event. Shovell was initially buried on St Mary's but Queen Anne had his body exhumed, embalmed and brought back to London where his remains now lie in Westminster Abbey.